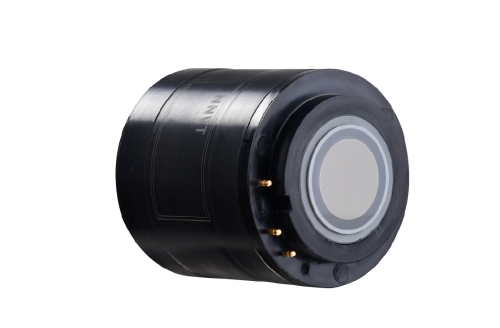 ---
1XZ1818WS-3.pdf

1XZ18/18W-3双近贴二代像增强器
产品概述
1XZ18/18W-3双近贴二代像增强器作为核心器件配装于轻型微光夜视装备,其作用是利用二代近贴增强技术将微弱的光学图像亮度增强到适合人眼观察的程度,获得低照度下目标高质量、清晰的可见光图像,它能在极低照度下(10-3~10-4lx)完全"被动"的工作,克服了主动夜视系统自身容易暴露的弱点,可在夜间中、远距离成功地进行战场观察、指挥、火控等辨别战术目标。
技术特点
双近贴聚焦,由近贴式二代管和光纤倒像器耦合而成的组合管,增益高、体积小、重量轻、低功耗。
参数
灵敏度2856K ≥240uA/lm
800nm ≥15mA/W
850nm ≥1mA/W
亮度增益 2000cd/m2/lx-10000cd/m2/lx
分辨力中心 ≥32lp/mm
边缘Φ14mm ≥32lp/mm
等效背景照度 ≤2×10-7lx
有效输入直径 ≥17.5mm
信噪比(12.9μlx)≥5
输入电压: 2.2-3.4Vdc
输入电流 ≤19mA
质量 ≤350g
输入窗 :光纤面板
输出窗 :光纤面板
尺寸 :Φ62×81.7mm/Φ63×79mm
应用领域
主要用于夜视头盔和各种轻型夜视观瞄系统中。也可用于公安、环境保护、航海导航等。
---
1XZ18/18W-3 Proximity Structure Second-generation Image Intensifier
Product overview
The 1XZ18/18W-3 proximity structure second-generation image intensifier as the core device to be assembled in light low-light night vision equipment. Its function is to use the second-generation proximity intensifying technology to enhance the brightness of the weak optical image to a level that applicable for human eye observation, and obtain high-quality and clear visible light images of the target under low illumination, it can work completely "passively" under extremely low illumination (10-3 - 10-4lx)overcome the weaknesses of the active night vision system itself that are easily exposed, and can successfully identify tactical targets such as battlefield observation, command, and fire control in the middle and long distances at night.
Technical Features
Double proximity structure focusing, high gain, compact size, light weight and low power consumption.
Parameter
Sensitivity 2856K ≥240uA/lm
800nm ≥15mA/W
850nm ≥10 mA/W
Gain 2000cd/m2/lx-10000cd/m2/lx
Center of resolution ≥32lp/mm
Φ16 mm Edge ≥32lp/mm
Equivalent background illumination ≤2.5×10-7lx
Effective input diameter ≥17.5mm
Effective output diameter ≥27mm
SNR (12.9 μlx) ≥5
Input voltage: 2.2-3.4Vdc
Input current ≤19mA
Weight ≤350g
Input window : Optical fiber panel/AVG
Output window :Optical fiber panel
Dimensions :
Φ62×81.7mm/Φ63×79mm
Application fields
It is mainly used in night vision helmets and various light night vision sighting systems, and can also be used for public security, environmental protection, sailing navigation, etc.
---
【关闭窗口】