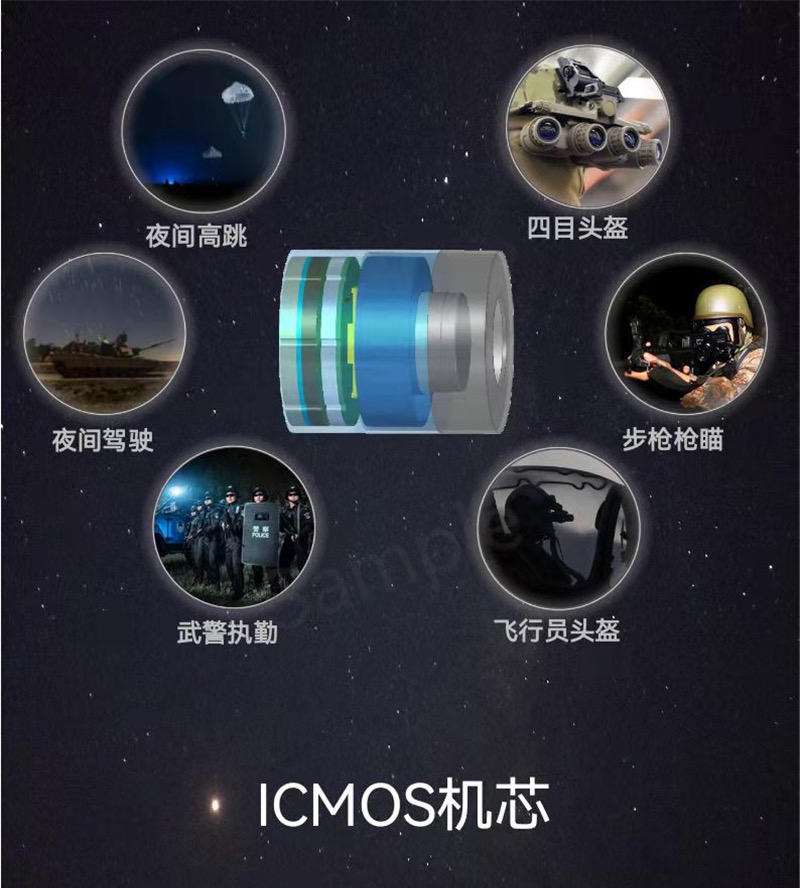 ICMOS/ICCD
产品概述:
ICMOS/ICCD是由像增强器与CMOS/CCD耦合组成的,集成了微光直视成像器件的高灵敏度和电视成像器件的具有摄像功能的微光夜视摄像器件。
技术特色:
使用光纤耦合的CMOS/CCD探测器与像增强器耦合,可以将两者优点结合起来,使其具有高分辨率、高帧速、宽动态范围、高的灵敏度、体积小、重量轻、成像速度快等优势。
参数罗列:
像增强器尺寸:18mm;
有效像素数:1920×1080;
曝光方式:全局曝光;
帧频:25fps;
分辨率:50lp/mm;
供电:5V;
数据输出:LVDS或者MIPI;
工作温度:-40℃至70℃;
存储温度:-50℃至80℃;
尺寸:≤φ36.7×54mm;
重量:≤130g;
功耗:≤1W。
应用领域:
ICMOS其成像模块尺寸小,重量轻,功率小,非常适合集成到航空、夜视夜战、车载和手持式监控系统中,拓展ICMOS动态范围,使其低照度成像能力更强。
ICMOS/ICCD
Product Overview
The ICMOS/ICCD consists of an image intensifier coupled with CMOS/CCD, which integrates the high sensitivity of the low-light direct-view imaging device and the low-light night vision camera device with the camera function of the TV imaging device.
Using a fiber-coupled CMOS/CCD detector coupled with an image intensifier can combine the advantages of the two to make it have the advantages of high resolution, high frame rate, wide dynamic range, high sensitivity, compact size, light weight, fast imaging speed, etc.
Parameter List
Image intensifier size: 18mm;
Effective number of pixels: 1920×1080;
Exposure method: global exposure;
Frame rate: 25fps;
Resolution: 50lp/mm;
Power supply: 5V;
Data output: LVDS or MIPI;
Operating temperature: -40℃ to 70℃;
Storage temperature: -50℃ to 80℃;
Dimensions: ≤φ36.7×54mm;
Weight: ≤130g;
Power consumption: ≤1W.
Application Fields
The imaging module of ICMOS is compact, light in weight and low in power, which is very applicable for integration into aviation, night vision and night fighting or battle, vehicle-mounted and handheld monitoring systems, expanding the dynamic range of ICMOS and making it more capable of low-light imaging.
【关闭窗口】